You've peed on the stick (most likely multiple) and have seen the plus sign or smiley face. You…are…pregnant!!
Congrats, you're pregnant! Now what????
I've broken down my pregnancy to-do list by trimester. Feel free to tweak it as you see fit!
This post contains affiliate links. If you make a purchase through one of the links, I will receive a small commission, at no additional cost to you. For more information, read my disclaimer & disclosure policy.
"YAY, I'M PREGNANT!" TO DO LIST
FIRST TRIMESTER (Weeks 1-12)
1. Tell your significant other.
Some women might tell their mom or their BFF first. In my opinion, your SO should be the first to know that you are pregnant. Let it sink in for a minute and just enjoy this moment together.
Since we did IVF for Nugget, the timing of everything was pretty precise so there was no element of surprise. Hubs knew I was going in for my blood test on Father's Day. Hours later, he got the call saying, "I'm pregnant, happy 1st Father's Day!"
Telling your partner could be as simple as, "Honey…I'm pregnant!" Pinterest is a treasure trove of creative and cute ideas. That'll be in a different post.
Baby #2's announcement was a bit more comical than Nugget's. Hubs opened a card that contained what he thought were three sideways balloons. Inside read "One made it." Chew on that for a moment.
2. Make an appointment with your OB to confirm.
This step may be interchanged with step 1, depending on how you want to handle it. Do you want your SO with you at the doc appointment? Or would you rather it to be a surprise? Typically, they will want you to come in when you are around 8 weeks to confirm your pregnancy with a blood test.
3. Communicate with each other. Decide who you are going to tell and when and how.
I think it is very important to be on the same page about this. Some folks want friends and family to know IMMEDIATELY. Others wait until 12-14 weeks (end of 1st trimester, chances of miscarriage go down). Some wait even longer. Still others post weekly photos and updates on Facebook and Instagram…others keep it close to the vest and are private. There is no right or wrong way…just make sure you and your SO both agree on what is right for YOU. Also be clear with those you share with whether or not it is okay for them to share and in what forum. I've had pregnant friends who have been accidentally outed on social media by well-meaning family and friends! Nip it in the bud ahead of time and make your wishes clear from the start.
4. Start taking care of yourself.
Per my OB, I started taking prenatal vitamins immediately. I also chose to cut out caffeine completely as soon as I found out I was pregnant (sooooo hard, since I *LOVE* my coffee!) and tried to eat healthier. No more brie and bleu cheese (two of my favorite foods, BOO!). Sushi was limited to cooked fish. I loooooove a good medium rare steak but had read that it should be well done. (I don't like well done steak!) Lunch meats and hot dogs need to be heated before eating and tuna should be eaten at a minimum.
With pregnancy #1, I tried to walk at least 30 minutes daily but was so sick during my first trimester, I ended up laying on the couch watching Netflix. I was fortunate enough to get a prenatal massage every 2 weeks though (BLISS!).
My current pregnancy has been amazing, with very little nausea. However, since it's the middle of winter and I have Nugget, I haven't been able to do my 30 minute walks like I'd hoped to. Insurance rules have since changed so I haven't had any prenatal massages yet (womp, womp).
Also, naps = life. If you have the opportunity to nap, DO IT.
Talk with your doctor, do your research, see how you feel and figure out what changes you'd like to make (if any) to your daily routine during your pregnancy.
SECOND TRIMESTER (Weeks 13-27)
1.

Decide which hospital you'd like to deliver at (unless you are having a home birth).
This was actually a big deal for us. We are fortunate enough to be surrounded by several excellent hospitals. I loved my OB, whom I had been seeing for 16 years…but the hospital he delivers at is downtown and kind of a pain to get to. Then there's parking. (Always a huge factor.) I chose my new doctor group based on their location and location of the hospital (both 10 minutes from my home).
2. Tell your boss/coworkers.
Some women choose to wait as long as possible before announcing their pregnancy. It's up to you, but your bump may give it away sooner than you'd like!
3. If you and/or your spouse are working, contact HR and find out about maternity leave.
Gather all the information about your company's (and your spouse's) about maternity/paternity leave.
4. Contact your insurance company.
Notify your insurance company that you are pregnant.
5. Start thinking about childcare.
How long will your maternity leave last? Will you be returning to work? Will you be getting a nanny? Nanny share? Daycare? In home daycare? Family member or neighbor? You don't have to decide today but it doesn't hurt to start thinking about it.
6. Start shopping for maternity clothes!
I actually did this during my first trimester because I started showing early. If you have an unlimited budget or you feel like pregnancy is something you've been waiting forever for and you just want to do it up–GO FOR IT! I tried to be budget conscious and kept my wardrobe to the following pieces:
A few pairs of leggings. I discovered that I don't really care for the kind that goes OVER the bump but now that I have them, I'm stuck with them. (Truth be told, I like the ones that sit under the belly better, but that's just my personal preference.) Black and navy go with everything in my pregnancy wardrobe!
Several cute professional looking tops. Because I was working during pregnancy #1, I basically bought all professional clothes (minus the leggings).
A few casual t-shirt type tops. Comfy, cotton, slip over your head, lounge in at home tops.
One maternity skirt. I was pregnant during the summer and am a dresses/skirt kind of gal so these were perfect!
Two maternity dresses.

These were nice enough to wear to work but comfy enough to wear at home on the weekends too.
One maternity coat. You may be tempted to try and get away with not buying one…don't! Especially if you live somewhere cold. Trust me when I say you WILL eventually need one!
Three maternity pajama dresses.

I LOVE pajama dresses and quickly outgrew mine within the first few weeks. Money saving hack: buy maternity nursing pjs if you plan on nursing.
One nice dress. Think baby shower…possible fancy events like weddings, baptisms…will you be pregnant over the holidays? If you anticipate going to several events, you may want to buy two (but you can always borrow from a girlfriend too).
A few sillies. I bought a shirt that says "The Electrician Did it" for Baby #1 (hubs is an electrician). For baby #2, I got us matching "I put the turkey in the oven" and "There's a turkey in the oven" t-shirts off of Etsy for our family reveal. I was also gifted with a "The Baby Made Me Eat it" and "Bun in the Oven" t-shirts. Silly and fun but probably won't get much use.
Several bras. One of the best pieces of advice I had read (if you are planning on nursing) is to skip buying bras in bigger sizes and just go straight to the nursing bras (since you will need them anyway). I also ended up getting a few bra extenders from Jo-Ann Fabrics.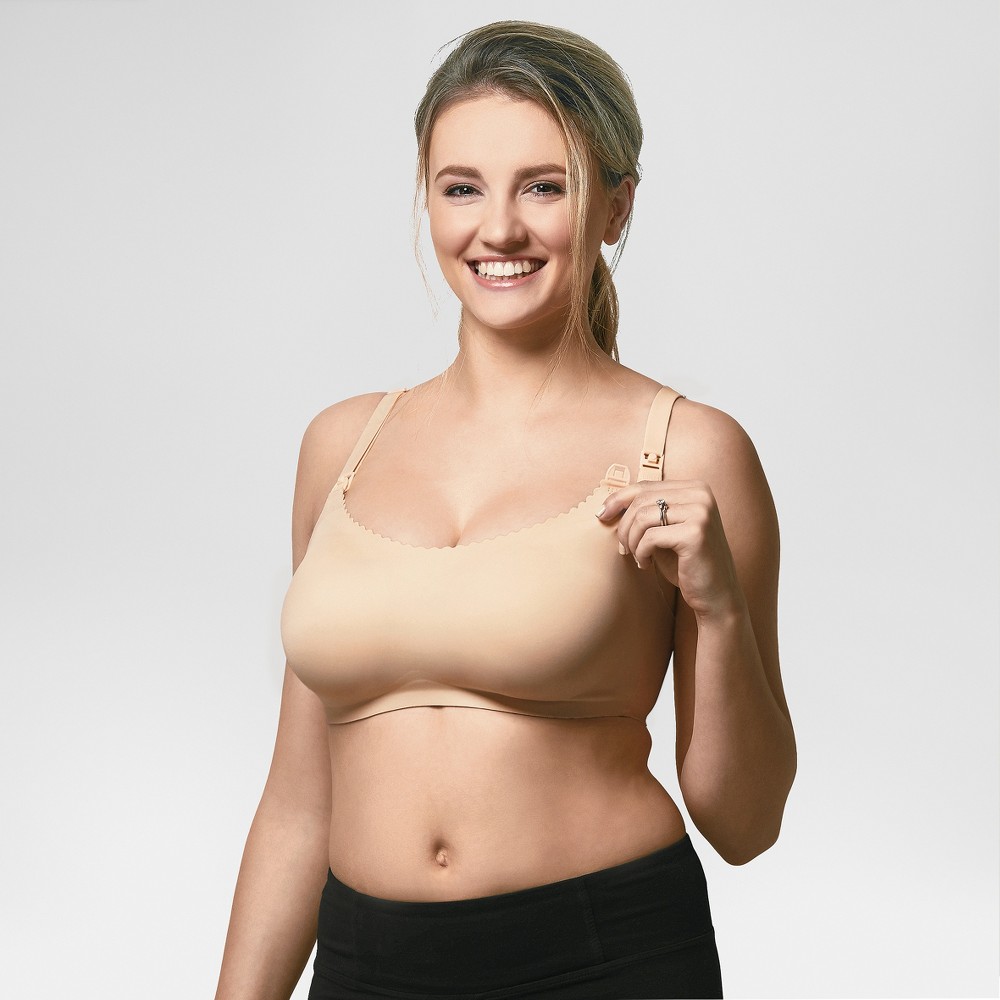 MONEY SAVING HACK: If you plan on breastfeeding, buy maternity nursing tops. It's a 2-for-1!
My favorite places to shop (online) for maternity wear are: Target and Amazon. Target has free shipping if you spend $35+ and Amazon Prime has pretty much free shipping all the time, depending on what you buy.
7. (Optional) Find out gender of baby/do a gender reveal party.
We found out the gender of both babies at 20 weeks but I've heard of others who have found out earlier. We didn't do a reveal when I was pregnant with Nugget but we did with Baby #2. Pinterest for cute and creative ideas!
8. Baby shower.
While most women have their baby showers during the third trimester, I decided that since my due date was in February, I didn't want people to have to deal with possible blizzard-like conditions getting to my soirée. I've also heard of women going into labor before their shower! Certainly not the end of the world, but I wanted to avoid that if I could.
Because I was so sick throughout my first trimester, I couldn't wait to party once I finally felt better! I wanted to have mine early so I would have time to organize and put the gifts away, write my thank you cards, and truly enjoy the day.
9. Start your baby registry.
Ah, the fun begins! I will dedicate a separate post on must haves and things I never even used from my registry. But have fun, Mama!
10. Start working on the nursery.
Truth be told (and I've heard this from sooooooo many mamas too), our baby rarely (if ever) uses her nursery! The American Academy of Pediatrics recommends that baby sleep in the same room as parents for at least the first six months of life (ideally up to a year) to prevent SIDS. Nursing mamas have told me having baby in the same room is so much easier at night. Bebes and I ended up co-sleeping and bed sharing, which makes night nursing SO much easier. (To learn more, read about my journey to bed sharing.)
So, yes. We have a lovely nursery. To look at!
Still, it's fun to design it and decorate it and fill it with all the baby things.
THIRD TRIMESTER (Weeks 28-40+)
You're in the home stretch! You may be feeling your most uncomfortable at this point. Hang in there, mama. The end is near!
1. Pre-Register at your hospital.
My hospital gives you the option to pre-register online for your delivery. It saves time once you actually come in for the birth! Check with your hospital to see if they have a similar thing.
2. Sign up for classes.
My hospital also offered a variety of different classes. Birthing 101, Breastfeeding 101, a class just for daddies, Labor and Delivery…I probably should have signed up for these during my second trimester (less pressure, I felt better then too) but…procrastination.
3. Pack your hospital bags.
I will also dedicate a separate post for what to pack. But start thinking about what you want to bring with you!
4. Wash and sort baby's clothes.
At the very minimum, wash the footed pjs and burp cloths!
5. Install the carseat.
If you're feeling unsure about whether or not you've installed it properly, your local fire department can do a check for you. Also, play around with the seat belt/buckles and figure that out beforehand…something hubs and I did NOT do, resulting in a very stressful situation.
6. Nest.
You probably won't need to plan to do this…it will just come naturally. The DAY I was scheduled to be induced with Nugget, I suddenly decided that I needed to clean the baseboards, toaster, and windows.
If you never get the urge to nest, no worries!
7. Go on one last pre-baby date with your SO.
Have dinner at your favorite restaurant. Go to the movies. Do WHATEVER you want. I'm not joking when I say this will be the last time for a while. Trust me on this one.
Did I leave anything out? Perhaps. But this is what I did…your pregnancy timeline may look completely different. Hope this helps! Enjoy this leg of the journey before the bigger adventure begins.
xoxo,
Like this post? Please share!